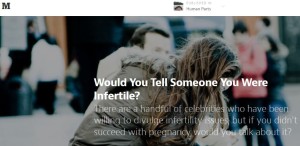 There are a handful of celebrities who have been willing to divulge infertility issues, but if you didn't succeed with pregnancy would you talk about it?
"Infertility," my husband once observed, "is one of those topics you want to bury, and then bury the shovel."
Infertile and Ashamed
His perspective is hardly unique among those who have learned they are infertile or have had to confront an infertility diagnosis head on. The diagnosis packs a devastating punch and cuts to the very core of what it means to be a man or a woman. Not surprisingly, it also elicits a sense of shame.
Why? Partly it's the taboo thing. Read more here >>>