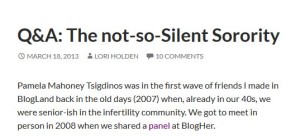 Author & Blogger Lori Holden Asks Some Questions
Pamela Mahoney Tsigdinos was in the first wave of friends I made in BlogLand back in the old days (2007) when, already in our 40s, we were senior-ish in the infertility community. We got to meet in person in 2008 when we shared a panel at BlogHer.
As one of the pioneers for the least understood path out of infertility — living as a family of two — Pamela knew from early on that she had something to say, a viewpoint that needed to be shared, and in 2009 she released her book Silent Sorority: A Barren Woman Gets Busy, Angry, Lost and Found.  Her original blog, Coming 2 Terms, has morphed into Finally Heard, where you can find her posting these days.