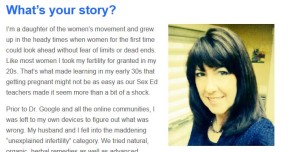 You can find lists of childless women but you won't find how they came to terms and what they did. Also, sharing stories is a really great way to heal.
Lesley Pyne started a series to do just that.
And they don't get more inspirational than Pamela Mahoney Tsigdinos. Many of you will have read Pamela's award winning memoir 'Silent Sorority, A (Barren) Woman gets Busy, Angry, Lost and Found' or perhaps you follow her thought-provoking blogs.
Read the full interview here>>>