Pamela Mahoney Tsigdinos (Sig-din-us) is an award-winning author, independent researcher, and writer. Her first reporting and writing appeared in The University of Michigan's Michigan Daily newspaper where she covered campus activities, newsworthy speakers and current events.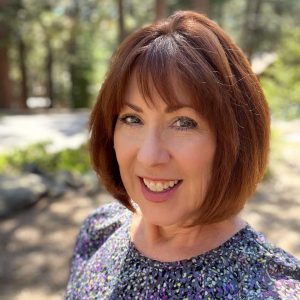 She currently volunteers with grassroots groups focused on public policy decisions that impact communities, health, and the environment. Read her latest thoughts in The Nevada Independent (What VIPs don't see: All is Not well in Lake Tahoe) and in the Tahoe Daily Tribune.
As wildfire season started this year, the Reno Gazette Journal published her piece: Those eager for Greater Tahoe development need a wildfire reality check.
Ahead of Earth Day, The Nevada Independent published her piece, Tahoe Needs to be Saved from Watchdog Agency Created to Protect it.
In January 2022, the San Francisco Chronicle published her piece: How to stop Tahoe from turning into the Disneyland of wildfire country. She has also been published several times in the Reno Gazette Journal, including her latest, Fodors Got It Right: Tahoe Needs a Break.
She is perhaps best know for her research and writing on the IVF industry, the limitations of reproductive medicine and the personal and social impacts that accompany fertility challenges. Her newest peer-reviewed paper, An IVF Survivor unravels 'fertility' industry narratives, was published in a special issue of the Journal of Marketing Management. It was later incorporated as a chapter in the book, Transhumanisms and Biotechnologies in Consumer Society, published in 2023. She recently discussed that paper with Slate and the New Legacy Institute podcast.
London-based Times Higher Education solicited her piece, Universities should not offer the false hope of 'fertility' benefits, published in July 2021.
She collaborated in 2020 with a British team to write Bait, Switch and Ditch, which explored definitions of abuse in assisted reproductive technology, published in the Journal of Fertility Counselling. In 2019 she was part of an international team of researchers and academics who published the journal article Do à la carte menus serve infertility patients? It was the basis for her op-ed, which ran December 2019 in the online and print editions of The New York Times titled: The Big IVF Add-on Racket. Her op-ed was later featured by the Center for Health Law Policy, Biotechnology and Bioethics at Harvard Law School.
Pamela's piece The Wild World of IVF, Explained was part of a Marie Claire package nominated for a 2019 Ellies Award by The American Society of Magazine Editors. She was named a Top 10 Health blogger by Time Inc.'s Health Magazine in July 2015. She maintains several blogs and social media accounts. Follow her on X or find her in the news.
Her writing and patient advocacy work is featured in a variety of media outlets including Boston Globe initiated outlet STAT, as well as WIRED, Marie Claire, The New York Times op-ed page, FORTUNE, Biopolitical Times, The New York Times Motherlode Blog, Huffington Post, Seleni Institute, and Medium.
Pamela and her blog have been profiled or referenced in The New York Times, REVEAL News, TIME magazine, Women's eNews, Redbook, The Globe and Mail, The Broad Side, MarketWatch, Forward, Yahoo Life, The American Prospect, Health.com, The NotMom.com and RESOLVE. She is the co-founder of the grassroots initiative ReproTechTruths.org.
In her award-winning book, Silent Sorority, Pamela shared with naked candor, humor and poignancy the unpredictable and emotionally demanding experience of confronting infertility in an era of helicopter parents. Silent Sorority is the antidote to the 'momoir.' Her followup ebook, Finally Heard, gives voice to a large but seldom acknowledged population of women reconciling the trauma of failed fertility treatments. Relationships and identity are among the casualties. Her writing raises provocative, often uncomfortable questions usually reserved for late night reflection or anonymous blogging. With raw honesty, Pamela drew from her experience to explore the stigma associated with fertility issues and the complex effects of living involuntarily childless.
Pamela first dealt with the confusion and weirdness of infertility privately.  Soon after she and her husband decided they were done with being human lab experiments, she began to realize that overcoming unexplained infertility is about much more than making a baby. It is coming to terms, when nature and science find their limits, with a life different than one so often taken for granted.
At the same time she started work on Silent Sorority she began a blog Coming2Terms. Struggling under the weight of grief, loss, shame and failure, she wrote using the alias Pamela Jeanne. Her international readership includes those who have never stepped foot in a fertility clinic, those pursuing fertility treatment, those who became mothers after treatment or adoption, and those, who like her, building lives without once sought after children.
She earned a B.A. in English Literature at the University of Michigan and an M.A. in Organizational Communication at Wayne State University in Detroit. Pamela spent nearly a decade working in the auto industry before relocating to live and work in the U.S. West. Now a resident of Nevada, Pamela works on community projects in addition to research and writing. She enjoys discussing history, Indie films, documentaries, politics, current events and literature with her family and friends. She can be reached at ptsigdinos (@) yahoo [dot] com.